David Ker: The BLT Interview
April 17, 2015
I had the great privilege this week of sitting down with David Ker to interview him for BLT. Well, we were virtually sitting down. Actually, I'm not sure whether he was sitting down or not. We did the interview via the internet. And I only at first saw digital images of animals that pressed me to imagine lips on an anthropomorphic cat (see his answer to Question 3 of 12) and Lingamish looks at a golden hippo (see Question 1) and a Little Zebra once a Red Zebra (again Q1). Since we'd met in real life, once upon a time, I did finally recognize his face in this menagerie of sorts (see his answer to Question 11). Please know that he's offered to reveal even more, if you like (see his answer to Question 12 of 12).
JKG Q1 – Many readers at BLT first learned of you and your work when Theophrastus posted "David Ker on literacy vs. Bible Translation." And others of us knew you and of you from what Theophrastus mentioned: your fame and your "Lingamish,
and Red Zebra fame."
In your comment after that BLT post, you said:
"My graduate research (currently on hold) is based on my time sitting in a classroom and watching kids forced to do school in Portuguese. They fail, the teachers fail and there is general misery all around."
Is there any update on that research?
DK A1 –
I was happy to see the responses to that post, especially Suzanne's comments on Cree in Northern Quebec. Her comments on liturgical language choices and my observations of the language of education in Mozambique point to the importance of what Bourdieu calls "authorized language" which derives and reinforces its authority from the institution. Accurate, clear and natural materials are irrelevant if they are not acceptable to those in power.
JKG Q2 – Did you say all you needed to say about literacy vs. Bible translation in your comment here? 
DK A2 –
Latour in his essay Interobjectivity asks, "Must sociology remain without an object?" And for this topic I think that question can be rephrased, "Must Bible translation remain without an object?"  The Word was made flesh. I have come to see that the Word must also be made paper. There is huge symbolic power in "reducing" language to writing to the extent that the resulting object can secure a place in the entrenched rituals of institutions. That is just as true for the classroom as it is for the church.
JKG Q3 – What is the future of Bible translation?
DK A3 –
When I think about Hello Kitty (and I think about Hello Kitty a lot), I find a potent lesson on identity. She is cute and feminine and her lack of a mouth allows the sympathetic viewer to project on to her kawaii their own identity and emotion. But in the process of projecting our identity on her we also can tweak her identity. Wearing Hello Kitty, like wearing a rock t-shirt (or a Lingamish t-shirt)

allows us to take on that persona and have some of the ways people react to her spill over on us. When the wearer tweaks Hello Kitty, by adding geek glasses or piercings or whatever, she (and sometimes he) is saying something about her identity as well. I'm not just cute and pink!

Bible translation can certainly be argued to be a similar case of identity projection. It will always be highly reflective of the culture of those who are doing it. And that is as it should be. However, to quote Bourdieu one is "condemned to looking within words for the power of words that is, looking for it where it is not to be found." In other words, communication/truth/Scripture are entirely social and thus, unfortunately, the work of blogs like Better Bibles and BLT is really in vain. Or to paraphrase Paul, our battle is not against meaning but meaners.
JKG Q4 – Catch us up on where you are now and what you're doing. What is making David Ker tick these days?
DK A4 –
I am trying to be a boring old Dad. I think that's what my kids need most at this point.

JKG Q5 –You once made the rather (in)famous, Nietzschesque proclamation – at your blog Lingamish — that "blogging is dead." There are artifacts in the blogosphere (still here in this old site, for example) that prove you said this, of course. Why does blogging interest you so much? Or did it interest you, once upon a time?
DK A5 –
I mourn the loss of those heady days. Three of the BLT gang brought me much joy and intellectual torture. It is good to see Theophrastus still gushing about beautiful books and literature. And I'm happy to see Suzanne carrying the egalitarian torch. JK has enlarged his tent pegs recently to tackle race, more so than I think he did before but perhaps that's just because of recent events. And I'm glad that there are people like NT Wright who can still get your knickers in a binary twist.

Bible blogging should be happening right now but not in tired old carousels of aner vs anthropos but rather in tackling the huge issues of late modernity. The Gospel calls us to shine like lights in a crooked and perverse world. Sadly, Christians I know on Facebook seem mostly concerned about rainbow cakes and Obama's birth certificate.


captured from http://www.goddiscussion.com/94646/extremist-atlah-urges-christians-to-cover-sheriff-joe-arpaio-in-prayer-over-birther-investigation/
JKG Q6 – What is the future of blogging, books, and social media? Which medium impacts literacy most positively and productively in your view?
DK A6 –
We are alone on the beach. There is only one set of footprints. They are your own. You must choose to do something good not for the world but for someone. Do not be overcome by evil but overcome evil with good. Our family has never owned a television. And our relationships have been enriched as a result. At some point we will come to see that social media is a relational cancer and take back our humanity.

JKG Q7 –  Who did you write your book The Bible Wasn't Written to You to? What do you want us at BLT to know about it? Where can we get a copy?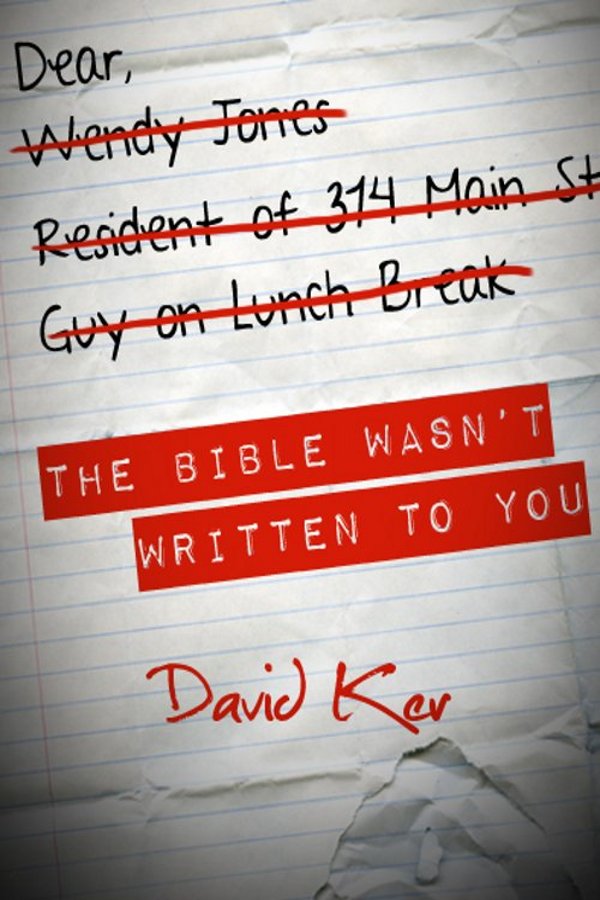 DK A7 –
I was just showing off in the laziest way possible. I liked the idea of writing a book without actually doing any hard work. There are a lot of good ideas in there but it feels like juvenalia now. I'd like to rewrite it since people keep buying it on Amazon. I don't think I would disavow anything I've written there but I would like to clean it up. However, still being lazy to my marrow I'll probably leave it alone.

A special deal for BLT readers. You can download TBWWTY for free using coupon code YA52D at this link: https://www.smashwords.com/books/view/50650

I'm a one-hit wonder of Bible blogging and the opening essay is that hit. It's a fun read.
JKG Q8 –  What is the good, the bad, and the ugly of Bible blogging? What lessons have you learned by blogging on the Bible? Which posts and/or interactions have impacted you, if any, and why, and how?
DK A8 –
It was a play ground for the sort of feedback loop that we still see on Facebook or Twitter. Someone commented on my post. I am validated as a human being. Buzz wears off. Write another post. Nowadays we have, post something stupid. Somebody clicked like! I can live to face another day. Certainly the level of interaction was more intense and rewarding.

After a while the criticism and argumentation became emotionally debilitating for me. I began to dislike my persona as a brash out-spoken sensationalist, aka "jerk".
JKG Q9 – I've overheard you say to somebody that "BLT is still cooking." Unless you might embarrass us here, would you be willing to elaborate? What might you advise us as bloggers on the Bible, on literature, and on translation?
DK A9 –
BLT is the Internet at its best: A small band of rabid enthusiasts discussing arcania.
—-
—-
JKG Q10- Why is the occasion of this BLT interview good timing for you? Is there anything in particular, any driving message, that you'd like bloggers or us human beings in general to be (more) aware of?
DK A10 –
Well, I think I was testing the waters for a possible rewrite of TBWWTYDK

but in the end it has been affirming by this interview to reconnect with JK.
JKG Q11- I think we might start another mutual admiration society, DK! If BLT were to nominate you and one other blogger to join us as co-bloggers, who should we invite (given we already have the three you've mentioned here and also Craig, Kristen, and Victoria)?
DK A11 –
Well there's no question that I would be happy to co-blog on BLT if and only if my co-blogger was/were McGyver. I know I'd feel safe with him around. Here's a promo shot for that new blogging duo.
JKG Q12 – I was going to ask you a final, 12th question, just to round it out to a dozen. I'm afraid, however, I completely lost my train of thought after your 11th answer….
Ok. Let's see.
Uh. Ok. Would you mind subscribing to comments once this interview posted live at BLT? Would you interact with more of us at BLT here?
DK A12 –
No. And Yes. And I'll try to keep the conversation spicy and or dicey.